Chaplain's Office:
The Office of the Chaplain and Religious Life seeks to support a diversity of beliefs through the multifaith character of the chaplaincy and its relationship to some 16 religious life affiliates. We acknowledge the importance of faith, both in our individual and collective lives, and strive to provide opportunities for members of the Wake Forest community to express and explore their faith in a supportive community.
Chemistry Clinic:
The Chemistry Center provides a positive space where students can interact with Chemistry course material in unique and meaningful ways. Student learning will be facilitated by interactions with Chemistry Center instructors and with peers, focusing on both cognitive and affective domains.
Financial Aid:
The Office of Student Financial Aid exists to help you find the resources you need to attend Wake Forest.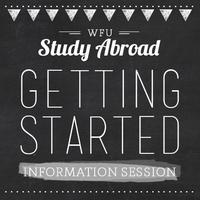 Global Programs and Studies:
The Center for Global Programs and Studies is committed to the internationalization of Wake Forest University. Contact them with any questions about study abroad programs.
Also check out these informational sessions: http://studyabroad.wfu.edu/events/
Health Care:
Are you unable to gain health insurance from your parents? Are you an independent student? Are you lost trying to find health insurance? Looking for more affordable health care options? Visit this source for steps on how to get health insurance: http://www.bestcolleges.com/resources/student-healthcare-guide/
Intercultural Center:
The Intercultural Center develops and implements programming which fosters the academic and personal development of the university's ethnic minority population.
Learning Assistance Center:
The Learning Assistance Center (LAC) provides study skills training and counseling.  Students can learn to read critically, take notes effectively, manage their time, improve their motivation, increase their reading speed, and prepare for tests.
LGBTQ+ Center:
The LGBTQ Center provides support and advocacy to Wake Forest University's lesbian, gay, bisexual, transgender, queer and questioning students, faculty and staff, and education to the entire campus community about issues of gender identity and sexual orientation.
Math Center:
The Math Center offers  free, one-on-one, math tutoring for Wake Forest University students.
Mentoring Recourse Center:
The Mentoring Resource Center provides standards, training, support, tracking, recognition, and inspiration for mentoring across the entire Wake Forest campus, both for formal mentoring programs and for informal mentoring relationships.
Office of Academic Advising:
The Office of Academic Advising seeks to provide a comprehensive system for monitoring student progress.  Academic  advisors help students with course selection, work with students and faculty to resolve attendance and behavioral problems and monitor midterm and final grade reports and degree evaluations.
Office of Personal and Career Development:
The Office of Personal & Career Development guides and inspires Wake Forest students to take charge of their personal and career development from their initial days on campus. By creating a supportive "college-to-career" community of faculty, parents and advisors, the office equips students to lead lives with purpose.
Pre-Professional Advising:
The link above will take you to a list of advisers for students interested in medicine, allied health, law, business, engineering, and graduate school.  
Student Employment:
Student Employment provides, one-stop shopping for students to review and apply for campus jobs, a central point for departments to advertise student employment opportunities, and information about off-campus jobs.
Student Financial Services:
This office manages all Wake Forest student accounts, including tuition, housing, and other University-related fees. You and your parents can count on exceptional customer service from us, including high-quality financial support services and timely, accurate account information.
Student Health Services:
Student Health is your Medical Home at Wake Forest University.  Our dedicated and experienced team is ready to serve all your primary care needs.
Women's Center:

The Women's Center strives to create an educational and professional environment that supports women and promotes gender equity. We foster safe spaces to reflect on individual and collective experiences and identities; develop co-curricular programming around women's and gender issues; advance professional development; and identify and advocate for policies to improve gender climate and inclusive practices at the institution.
Writing Center:
The primary purpose of the Writing Center at Wake Forest is to offer students a place where they can discuss their writing and writing processes with trained tutors.
Undergraduate Research and Creative Activities Center (URECA):
The URECA Center was established to promote undergraduate research and creative activity across Wake Forest College.
University Counseling Center:
The University Counseling Center places a high priority on privacy and confidentiality. All communications between a client and a counselor, including the decision to seek counseling, are confidential to the full extent provided by law and are not released outside the Counseling Center without a voluntarily signed consent.
University Registrar:
The Office of the University Registrar functions as a service office to the Wake Forest academic community and reports to the Provost. Our principal responsibility is to ensure the accuracy, integrity, and security of student academic records/data and to provide various record services.
Wake Forest Scholars Program:
The Wake Forest Scholars Office identifies and promotes high academic and civic achievement among undergraduate students from a wide variety of backgrounds and intellectual interests.
Z. Smith Reynolds Library:
Beyond providing research help, the library also hosts many student events, including Wake the Library midnight exam breaks, game nights, and a variety of film screenings and lectures. The Z. Smith Reynolds Library, which is open 24/5, also houses the Bridge for technology support, the Writing Center, and a full-service Starbucks.